On May 20th we'll have a soft opening for the coworking space. We're located in the back of 469 Franklin (near Allen). Walk down the pathway on the right side of the building, and you'll find us in back.
While providing an alternative work place for the work-at-home individual, our secondary goal is to bring together people to contribute their skills to various projects, and in turn earn equity in those projects. More on that once we get the work space up and running.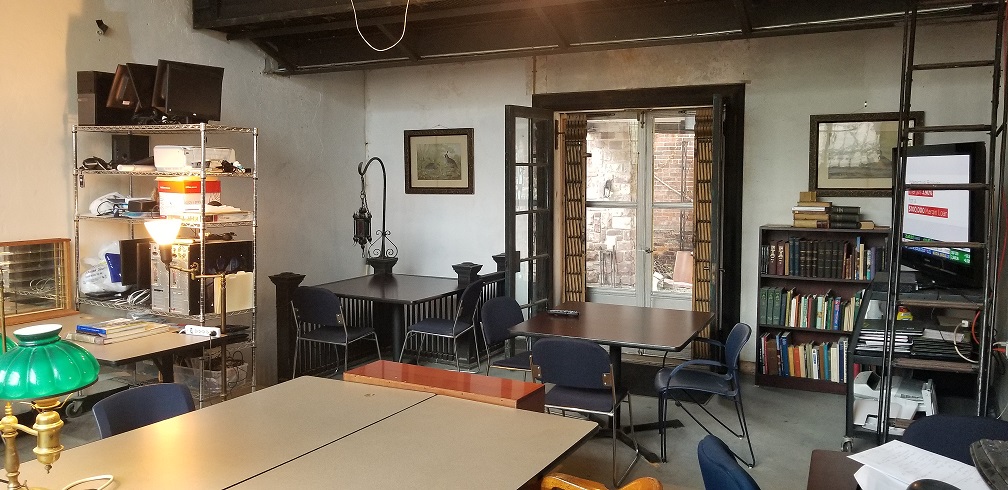 Monday thru Friday
8AM-9AM - Space will be available for discussion, 36in36 projects, or projects, questions you need help with.
9AM-4PM - We'll try to be quieter for those that need to work
4PM-6PM - Similar to 8AM-9AM
Evenings, we will have events, or workspace for projects when the demand reaches that level.
Saturday
10AM-5PM - Open - Demonstration of local DIY-projects, possible presentations by out of town visitors with concepts/ideas for development
Sunday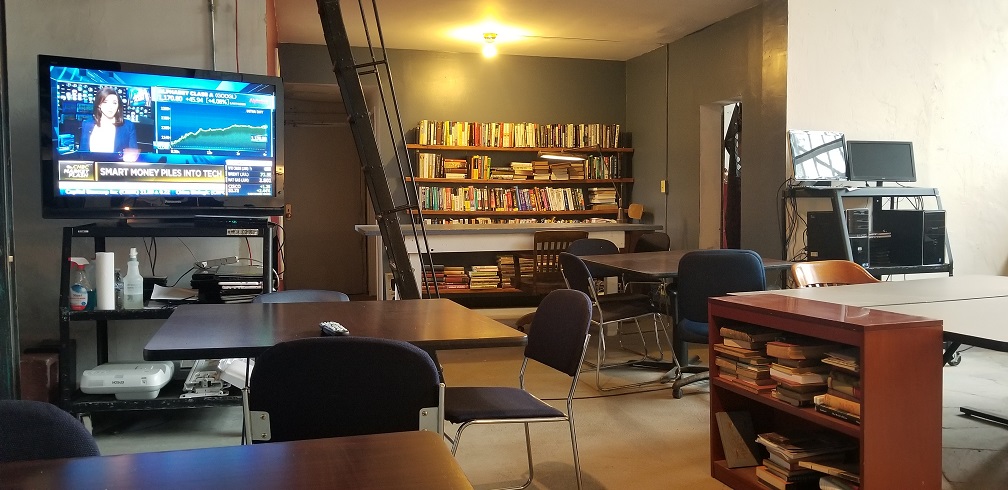 Just the Basics...
There is no charge to use the space, if you learn about a project you think you might contribute to, or know of someone who might, we just ask that you be open to that. The downside, it's not super fancy. The chairs aren't great, it's not super bright, and the property is old, very old.
For food and coffee, we ask you support one of the local restaurants or coffee shops. Cafe 59 has donated some items, if you get hungary, we hope you'd try them out. Earlier in the day, Caffeology on Allen and North Pearl has a variety of coffee and espresso based drinks.
Projects Collectively Owned by those that work on them
The projects will be divided into pieces that can be worked on by individuals. The work may be done onsite at the Allentown Coworking Cooperative, or remotely. Tasks will be first posted to those working locally, but will be posted online if no one local accepts the task.
What Makes this Unique
Attached to the coworking space in Buffalo, NY, is a six unit short term rental. We will host individuals presenting ideas, or offering to work on one of the 36 projects. The units give us the opportunity to bring individuals to our city, creating a stronger link than just having a remote worker.

Learn more about the hosting space here.

An application that can be downloaded by a remote worker to manage the current open tasks that need to be completed. The application includes a time tracker, and a way for an individual to escalate any issue they need help with.

Individuals that submit an idea that becomes one of the 36 projects, and key contributors in making that idea become a reality, gain a small equity position in all of the projects.There is an element of chance when it comes to a startup. By spreading the risk across multiple projects, a person may be less likely to walk away with nothing.
Working for equity just benefits the owner, right?
Some startups that are short on funds may look for developers to work for equity. In this situation, the developer is often put in a position of bearing too much risk, for too little reward. This project differs in that regard in that:
There is no one holding a large equity position that will benefit from your work. People earn equity through the work they contribute.
You don't need to quit your day job to persue someone else's dream project. As a technical task is completed, certain parts of it may be escalated to more advanced developers. These questions or tasks may not take long for you to complete. Something that could be done in a short period of time. However, it might be the key contribution to completing the project.
Those that do choose to contribute on a larger scale, can gain equity in the other 35 projects. This helps spread the risk for those that commit more time to a project.
By participating in this project, you get the benefit of the experience we gain from the previous projects.